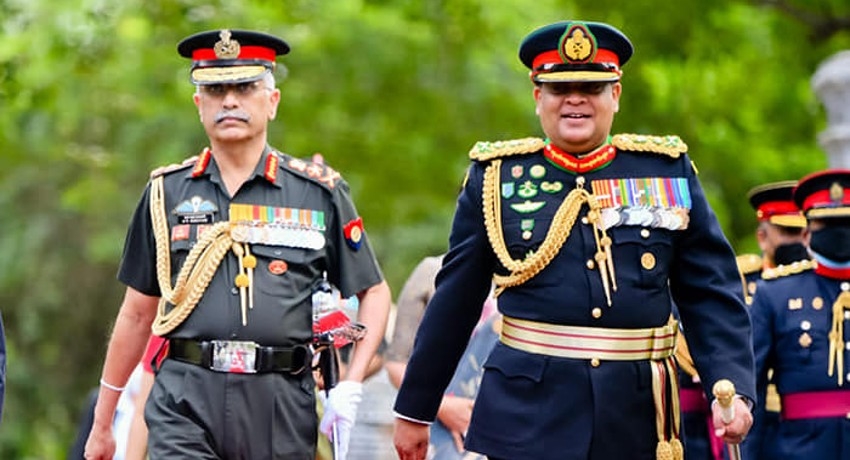 Written by Zulfick Farzan
14 Oct, 2021 | 7:33 pm
COLOMBO (News 1st); The Gajaba Regimental HQ at Saliyapura was adorned with festive garbs this morning (14) as military formalities were set to welcome the historic visit of the Indian Chief of the Army Staff, General Manoj Mukund Naravane to the camp on account of the Gajaba Regiment's (GR) proud 38th Anniversary aka the Regimental Day.
At first, a colourful Guard Turnout at the entrance to the GR Regimental Headquarters saluted him in a formal manner after he was received by the Deputy Centre Commandant at the GR HQ.
As he entered the compound, Brigadier Dinesh Udugama, Center Commandant, GR formally received the VIP to the Home of Keterians and ushered him to the parade ground to receive the salute in the Guard of Honour, presented in his honour.
As melodies began reverberating, the Parade Commander reported to the visiting Indian Army Chief to review the colourful and elegantly-dressed parade.
The parade, composed of 42 Officers and 520 Other Ranks, representative of all Battalions in the Regiment presented arms and accorded the formal salute to the visiting Army Chief standing on the special dais.
Adding undying memories, the Indian Army Chief after a while sat for a group photograph, together with his host, General Shavendra Silva, Colonel of the Regiment, GR, Chief of Defence Staff and Commander of the Army with Senior Officers, attending the GR Regimental Day ceremonials.
His stay in the camp compound was made further memorable after he was invited to plant an ironwood (Naa) sapling.
The visiting Indian Army Chief was presented with a special memento in order to immortalize the memories of his visit to the GR Regimental HQ. The gesture was reciprocated.
Towards the end of the itinerary at Saliyapura, he left some complimentary remarks in the GR Visitors' Book.
On the sidelines of the main ceremony, General Shavendra Silva introduced the Gold Medalist in Tokyo Paralympics,Warrant Officer 1, Dinesh PriyanthaHerath of the Gajaba Regiment to the day's Chief Guest,General Manoj Mukund Naravane.
Senior Military Officers of the Indian Army delegation, Major General Rajeev Thapar, Major General General Staff, HQ Army Training Command, Major General Vikrant Naik, Military Assistant to the COAS and Colonel Mandeep Singh Dhillon were also associated with the Regimental Day ceremonials.
Indian Army Chief meets Paralympic Gold Medalist at Gajaba Regiment's 38th Anniversary,
Distribution of imported fertilizer begins
Compensation system for public servants infected with COVID-19
Sri Lanka can be friends with anyone – Subramanian Swamy
COVID-19 fatalities in SL increased to 13,429