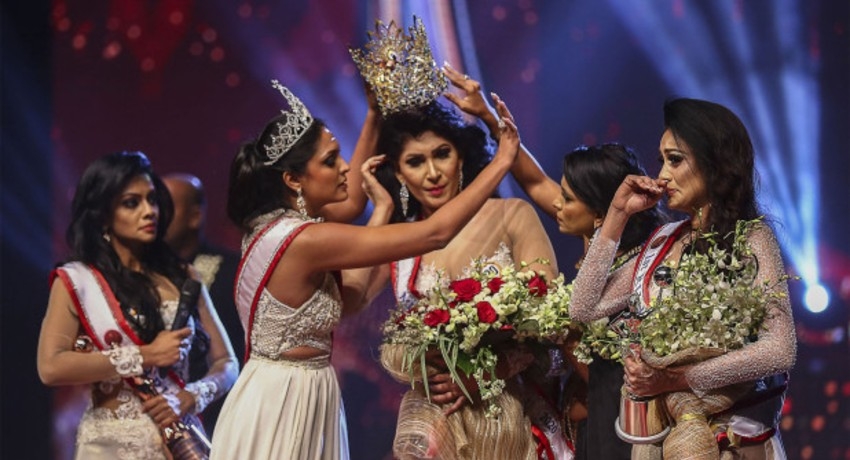 Written by Zulfick Farzan
08 Apr, 2021 | 4:58 pm
Colombo (News 1st); Mrs. World Caroline Jurie and Model Chula Padmendra, who were arrested by the Cinnamon Garden Police on three counts, were granted police bail on Thursday (08), said Police Spokesperson DIG Ajith Rohana.
The Deputy Police Chief said the duo were arrested on the offenses of causing simple hurt and criminal force, committed at the Nelum Pokuna Theatre on Sunday (04).
Caroline Jurie and Chula Padmendra were released on police bail and were informed to appear in court on the 19th of April 2021.
Police Spokesperson DIG Ajith Rohana earlier said a complaint was filed by Mrs Sri Lanka Pushpika De Silva claiming that she won the Mrs. Sri Lanka 2020 pageant, and later her crown was taken away causing injuries to her.
Ugly scenes were reported at the Mrs Sri Lanka pageant on Sunday (04) when Pushpika De Silva won the title of Mrs. Sri Lanka, only to end up in the hospital with head wounds after Mrs. World Caroline Jurie ripped off her crown in a snit to bestow it on the runner-up.
Mrs. World Caroline Jurie claimed De Silva was actually divorced and thus disqualified from holding the title.
"There is a rule that states you have to be married and not divorced, so I am taking steps to make the crown go to the first runner-up," Jurie told the stunned crowd.
Jurie then took away the gold crown off De Silva's head and put it on the runner-up, prompting tears and chaos.
Pushpika De Silva posted a photo of herself in a hospital bed on her Facebook page — while denying she is divorced.
She acknowledged she and her husband live apart but insisted, "I'm not a divorced woman."
"I am not divorced and I am still married. However, even a person who is divorced should be allowed to enter such pageants," she told reporters on Tuesday (06).
Mrs World Caroline Jurie & Chula Pademendra granted bail
(VIDEO) Zero emphasis on national security in Port City Bill
(VIDEO) Sajith confronts speaker on vacating Ranjan's seat
Mrs World Caroline Jurie arrested, following Mrs. Sri Lanka fiasco
Navy arrests 20 illegal migrants from Silawathura