What can be found in Starfield's New Atlantis city? What we already know about the varied planets, creatures, and cities of Starfield has us even more excited about Bethesda's starfaring RPG. We're starting to learn more about who we can interact with and where, and just how these people and places will alter our space exploration experience.
June's Xbox and Bethesda Games showcase gave us a real in-depth gaze at the sheer scale and scope of Starfield, revealing the game would have over 1,000 planets to explore, as well as a number of major Starfield cities, including New Atlantis. we're keen to find out everything we can about the massive space game before the Starfield release date flies into our orbit, so here's what we know so far about New Atlantis.
New Atlantis background
As the capital city of the United Colonies, and unofficial capital of the entire Starfield universe, New Atlantis was founded in 2160, nearly 200 years before the present time. As the biggest city in the planetary system, it's little wonder New Atlantis is home to the likes of the Jemison planet's Commercial district and spaceport, and can be traversed using the New Atlantis Transit line.
New Atlantis size and locations
Game director, Todd Howard, revealed in an interview with IGN that Starfield's New Atlantis is "easily the biggest city in the game and the biggest city we've ever built – it's kind of the capital here in the game." We're talking bigger than anything in Skyrim, bigger than anything in Oblivion, and bigger than any city we've ever seen in a Fallout game.
So, a record breaking cityscape for Bethesda which must house an extraordinary amount of content. Some of the biggest and most important buildings are located in New Atlantis, as are some of the best Starfield companions you could hope to meet, so make sure you visit the following locations as part of your journey:
GalBank House of the Enlightened Jemison Mercantile MAST Sanctum Universum Settled Systems News Network Terrabrew Coffee The Lodge (Constellation HQ) The Viewport
With over 1,000 planets, you might be wondering where New Atlantis is located. Seen during the official gameplay reveal trailer, New Atlantis can be found on the planet Jemison, based in the Alpha Centauri solar system.
The extended gameplay reveal also shows that Alpha Centauri is home to other known planets – Gagarin, Olivas, and Chawla. Thanks to Bethesda's location insight developer short below, we've also been given a look at some concept art of New Atlantis. As can be expected with any major city, New Atlantis is full of towering buildings, spacious hubs, bright lights, and a variety of districts.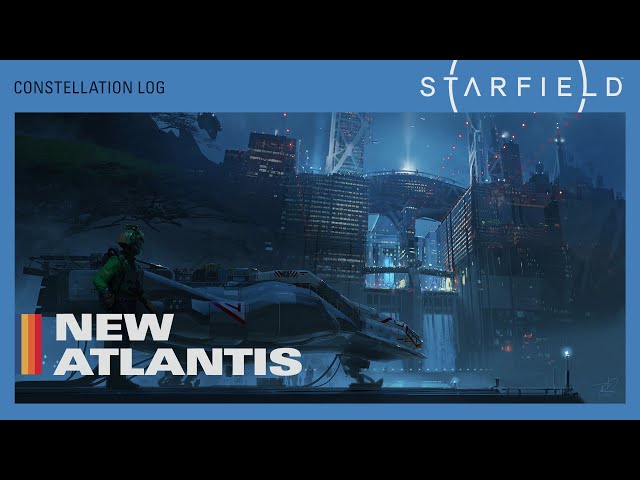 New Atlantis factions
As one of Starfield's most distinct locations, New Atlantis acts as the home and capital city of the United Colonies, or UC, the largest of the many Starfield factions.
Design director Emil Pagilarulo describes the United Colonies as "the most powerful established military and political faction in the game," and goes on to add that the city is a true melting pot with residents coming from every race, religion, and ethnicity.
We also know that New Atlantis is the headquarters for Constellation, the faction that you, the player character, join at the beginning of the game. Constellation acts as the last group of committed space explorers, and Starfield's main quest goes through Constellation, which suggests you'll be visiting New Atlantis pretty soon into the main narrative. As the leader of Constellation, you meet Sarah Morgan in New Atlantis, and she is likely to be one of the most important companions you can recruit in the RPG game.
While that's all we know about Starfield's New Atlantis city so far, there's plenty more to uncover about this ambitious settlement once your space adventure begins. If you're looking to explore more of Starfield's universe, take a look at the Starfield timeline so far. We also have guides on the other Starfield cities, so take a look at the Starfield Neon city and Starfield Akila city guides for more on those. For even more, our new Starfield Database offers you daily news, searchable databanks, and even interactive tools.
Source: www.pcgamesn.com